The student portal of NTCC serves as the main source of personal, academic, and financial information that relates to this college. It was created to make the experience at Northeast Texas as pleasant as possible. The myeagle.ntcc.edu is designed specifically to be used by students, faculty, and staff.
This powerful website provides many useful resources and services. Even when you open the home page, you already get plenty of information. You'll find a list of helpful links to some of the important websites, such as the college library, college store, course catalog, college website, and others.
Also, from within the portal, it is possible to perform such actions:
Apply to the college
View final grades
Make an inquiry
Search for courses
Chat with student services
Read details about all courses
And more
If you are looking for a job, and think of working in an educational institution, go to the portal and click on the Employment tab. Use the Job Search feature and view all available job positions. Also, from this page, you can jump to the HR main website, read about employee benefits, check out the hiring process FAQs.
This is not even half of the features provided by the portal. Take time and explore, you will not be disappointed.

Contacts of the myEagle Portal
The following contact information is provided on the portal website:
About myEagle Portal
The NTCC portal has a plain, easy to use interface and very simple design. No difficulties occur when surfing the portal. If something does happen and you'll need help, click on the Need Assistance tab and use the provided phone number to resolve any problem. There is one disadvantage of the portal, it has no mobile version.
All information on the portal is grouped into tabs. They are located at the top of the webpage. Each tab presents content regarding a certain theme. For example, there is a tab named Admissions. On this page, you can fill out an application to begin taking classes at Northeast. You can choose from a variety of terms and start dates. Also, there are detailed descriptions of each term.
Under the Find Courses tab, you'll find a Course Search feature and an NTCC catalog with an academic calendar, registration info, tuition and fees, course descriptions and much more. You can choose from courses both online and on campus.
The myeagle.ntcc.edu portal has a very handy feature that not every student portal has. It's the chat room. It allows students to ask questions regarding NTCC student services. This chat is not a private one, anyone that logged in to the chat room can read your questions.
Program Description of Northeast Texas Community College
Northeast Texas Community College's aim is to satisfy everyone's educational needs within its service area. This establishment offers baccalaureate programs for the freshman and sophomore years and background courses to upgrade one's job. Various courses are provided by the college in the day and evening. There is a choice to enroll part-time or full-time.
You can earn the following degrees: Associate Of Arts, Associate Of Science, Associate Of Arts In Teaching, Associate Of Applied Science, in such areas of study:
Accounting
Agriculture
Art
Auto Body Repair
Automotive Technology
Biology
Biomedical Science
Business Administration
Business Management
Chemistry
Communications
Community Health
Computer and Information Sciences
Cosmetology Operator Training Program
Criminal Justice with Law Enforcement Certification
Criminal Justice
Culinary Arts
Emergency Medical Services
Engineering
English
Funeral Service
General Studies
Government
Health Studies
Healthcare Management
History
Human Performance
Industrial Technology
Mathematics
Medical Assistant
Medical Laboratory Technology
Music
Nursing
Office Technology
Physical Education
Physical Therapist Assistant
Physics
Pre-Professional Studies
Psychology
Social Work
Sociology
Spanish
Teacher Education
Theatre
Welding
The most popular majors include Liberal Arts and Humanities, Manufacturing Engineering Technician, Automotive Mechanics.
Do you want to upgrade your skills in a particular area? Then the Certificates of Competency are the best choice for you. Moreover, NTCC has a lot to offer. All about it you can read on the student portal under the tab Find Courses.
Also, the college offers dual credit programs, outreach programs, adult education with free GED and ESL, continuing education programs and an awesome Eagle athletics program.
About Northeast Texas Community College
NTCC is a public community college located at Mount Pleasant, Texas. It was established in 1984 by the Camp, Morris, and Titus counties. Nowadays, this institution has recognized itself as one that offers quality instructional programs in a student-oriented environment. It is a rather small college with a total of 1,405 full-time undergraduate students enrolled.
The mission of Northeast Texas Community College is to provide dynamic learning experiences while helping students to succeed. Its goals are – student success, sustainable growth, integrated approach to learning, workplace of choice and community enhancement.
This educational institution provides the following services – distance education, remedial services, academic counseling, placement, and employment services.
Reviews for Northeast Texas Community College
Most of the students say that they would definitely recommend this institution. More than half of them highly rate the athletics/recreation facilities. You can choose from baseball, men's and women's soccer, rodeo, softball, and many other sports.
For a college to be one of the best, it must have qualified professors. This college has them. Many students stated that the professors were very helpful, always made time to help the students, and the interaction that they have with students is great. Not only the professors are great there, but the school itself is extremely friendly and super homey. Everybody at the college is wanting and helping you to succeed.
The biggest disadvantage that was mentioned in the reviews is the cost of the meal plan and the dorm room cost. They say that it would have been better if it was lower.
Most of the professors employed at the NTCC claim that they enjoyed their time working there, that it was always very peaceful and quiet. They liked their hourly pay but were disappointed that there were no benefits and no time off.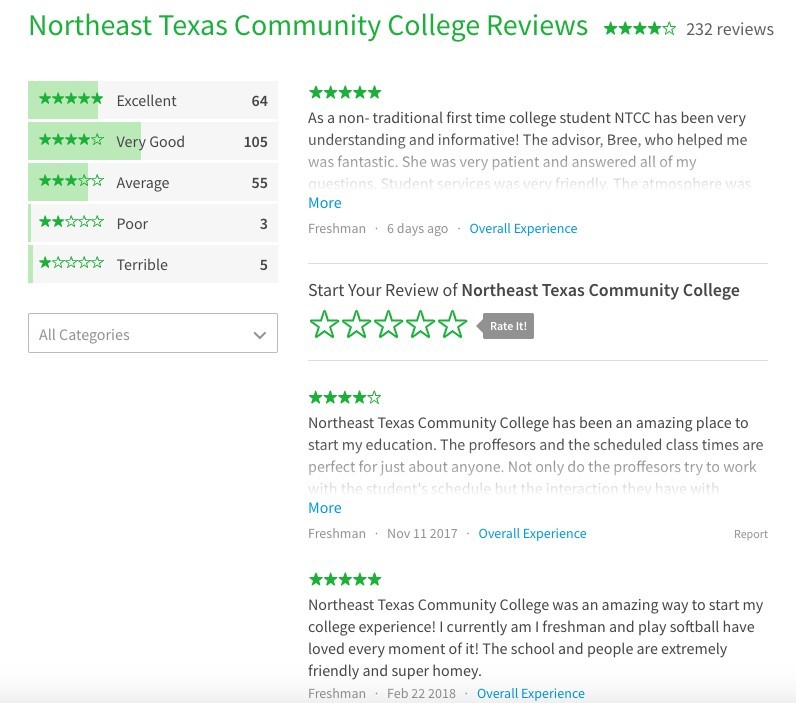 Pros and cons of Northeast Texas Community College
It is impossible to maintain both sides, which is why we put together a pros and cons list of studying at NTCC.
Pros:
Affordable programs
Peaceful campus
Easily accessible scholarships
Amazing location
Professors always willing to help
High hourly wage
Cons:
Meal plan cost is too high
Dorm room cost is too high
Advising can be difficult sometimes
Sometimes notice of work schedule was short
No benefits/no paid time off
Does Northeast Texas Community College have a campus?
Yes, and a really beautiful one. All the information about its campus you can read up on the portal. Are you interested in living on campus? Simply go to the portal webpage and make an inquiry. Also, you can schedule a campus tour via the portal.
You will never be bored on campus. Northeast Texas Community College offers a variety of clubs and activities. Choose among clubs and organizations, intramural sports, fitness center, disc golf course, and many other cool activities.
Tuition and Fees in Northeast Texas Community College
The tuition and fees are different for the residents of Camp, Morris and Titus Counties, the residents of all other Texas counties and out of state and international students. It is possible to pay online or in person. The NTCC catalog with all those details can be found on the student portal.
The college has various financial aid choices for the students that have established financial need. There are scholarships, grants, loans and many other resources, such as Vocational Rehabilitation Program, Tuition Exemptions/Waivers, Veterans' Educational Benefits.
Conclusion
A student portal is the main gateway to your personal, academic, and financial information as it relates to the college. Students are not required to use this source, but if you don't use it, you'll be missing out on a lot. On the NTCC student portal, you can easily find the needed information without going anywhere or calling anyone.
The website is useful not only to current students of NTCC but also to faculty and staff. If you're not yet a student but wish to be one, you can apply online. Also, the portal has a great function called Campus Directory. It is a database with personal information on every member of the faculty and staff.
Moreover, the portal provides contact information to almost every college department. You can contact the Admission Office, Business Office, Financial Aid, Registrar, and others. If you are still not sure whether you should spend your time and register on the site, don't even think, you won't be disappointed. Isn't it just awesome that so much information can be found on one webpage? Just think, you don't need to spend a huge amount of your precious time searching the Internet, you'll have everything you need right in front of you.