The mySCC portal is the best place to find all of the educationally related information. It is a database crammed with details of your student life. The website provides easy access to information that normally you would go and ask for.
It is impossible to access the portal without registering. The college website offers such detailed instructions. The easiest and fastest way to get to the site is to bookmark it or click on the mySCC portal link at the Quick Links section of the college website. If for some reason you lost or forgot your username or password, contact office.
You're curious about what is happening on campus? Want to register for classes? Or maybe you need to make a quick payment? Go to your portal and do all that, and even more. Though the portal you can also check for emails run a degree audit, get help to find a job position, apply for financial aid, and that is not all.
Don't think of registering and using the portal as a waste of time. Isn't it great that the webpage gives you a possibility to find your transcripts, get tutoring, find out any financial details, contact Help Desk if you have any issues with technology on campus, all in one place? On this portal, behind each of its tabs, you'll find useful information.

Contacts of the mySCC Portal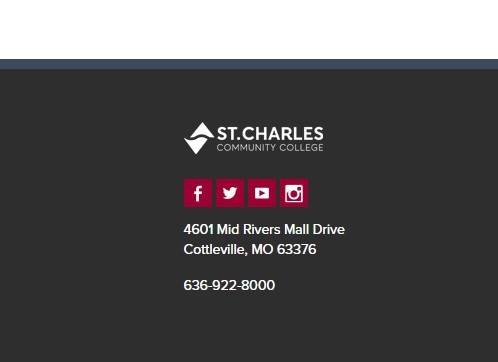 It is very easy to find contact information on the portal. The following is posted there:
About mySCC Portal
The webpage has a very user-friendly design. Its navigation system is also very simple. The whole information that the portal contains is grouped into tabs. Those tabs give information about enrollment services, student support, financial aid, student life, technology services. To navigate between the information just click on the needed tab.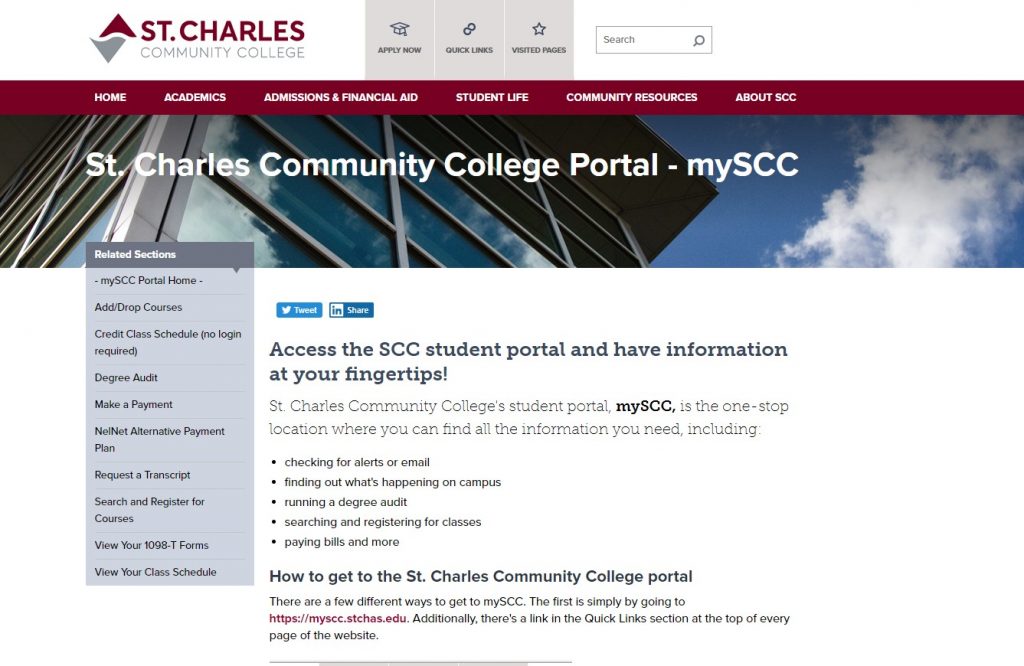 Program Description of St. Charles Community College
Whatever career you have in your mind, you can find it at SCCC. Even if you have no clue of what to choose, take classes and they will help you get to know yourself and will lead you towards success.
At this college you can choose from an Associate of Applied Science Degrees, Associate of Science Degrees, Associate of Arts in Teaching Degree, Associate of Fine Arts Degree, Associate of Science Degrees. Moreover, the college offers such certificates – Certificates of Achievements, Certificates of Specialization, Certifications.
The following areas of study are available to choose from:
Art
Business
Business Technology
Computer Science
Criminal Justice
Education
English as a Second Language
English/Communications
General Education
Healthcare
Human Services
Humanities
Kinesiology
Math
Music
Science
Social Sciences
Theatre
Trades/Manufacturing
Besides, SCC helps to prepare students for taking the HiSET and ACT. It provides support that the students need to get ready for college. For more information, you should contact the Academic Achievement classes on the college website.
Are you bored? Well, that is not a problem at SCC. It offers many courses that you can take for fun and get your creativity flowing. You can choose from costume sewing, photography, Zumba, many culinary classes, dog training, and many others. The full list can be found in the college's catalog for fall 2019.
If you are not looking for a degree, but want to gain new skills and knowledge, this educational institution has plenty to offer. Some great programs for children from pre-k to 12 grade are available. Those programs give an extra challenge and academic support. They are available throughout the whole year in a form of after-school classes. You can choose from technology, sports, arts, science and more. Kids ages 8-18 can participate in the Young People's Theatre, one of the popular theatre programs of the region. Also, here is a Suzuki Music program that can teach everybody to play instruments. Besides, it is a well-known fact that kids love camps. The college also offers a great one for the children ages 5-14.
Have you been out of school for a long time? SCC has a lot to choose from for you. Classes in foreign languages, road scholar, visual arts, social dance are available.
Plus, the establishment has plenty to offer in terms of online learning. Are you looking for professional development? Want personal enrichment? Or maybe you decided to do a career exploration? All of this is possible with the distance courses of SCC.
About St. Charles Community College
Founded in 1986, SCC is a public, two-year educational institution that provides various opportunities, degrees and certificate programs in many fields. The average class size is 19, with the student to faculty ratio 20:1. More than 35 organizations are available to students. The college has an accreditation from the Higher Learning Commission. SCC welcomes diverse students. It has Disability Support Services that ensure accessibility for different students.
Reviews for St. Charles Community College
Many students of SCC claim that they liked learning at this establishment and that they would definitely recommend it. Some say that this school is good to get an associate's degree and transfer. Moreover, if you have no idea of what to do in your future life, the school really helps with that. The staff helps you plan for the future, choose what classes to take and which program is best suitable for you.
Learners were satisfied with the online classes. They were accessible and easy to comprehend. On-campus classes are also great. The professors and very friendly and care about their students. But, there were some complaints about the admissions office, especially about the fact that they are usually rude and don't rush do help students. SCC is very diverse. And because of the huge variety of people, there is no peer pressure on anyone.
If you are looking for a campus where lots of parties are held, then this one is not for you. Students say that there is not much going on on-campus, and usually, there is nothing to do there. But it is very easy to find everything on campus.
Also, students are hardly involved in college life. People that were both studying at this college and working full-time claim that this institution is the best place to work and study. It is very flexible.
Professors that have worked at this institution say that they like their job, it is a very friendly environment and an easy job. But there were some that stated that the pay is horrible, there is no praise for good deeds, sometimes the funds are being misused. They say that most of the issues come from upper management. The best thing about being employed here is the workers that are great to work with, beautiful campus and a nice location.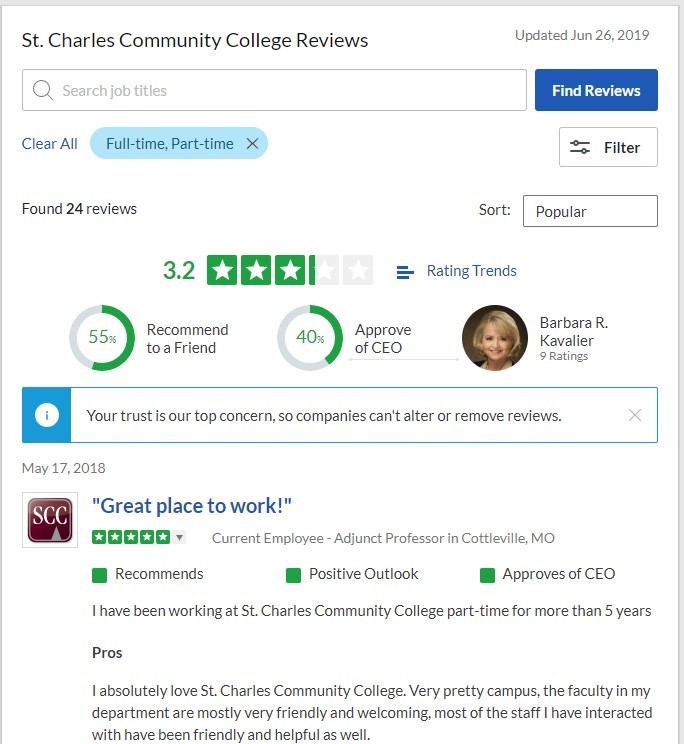 Pros and cons of St. Charles Community College
As you know, there is nothing that can have only positive or only negative features. For that reason, we have created this pros and cons list.
Pros:
Low cost
Diverse
Flexible
Beautiful campus
Great location
Perfect place to get General Education
Cons:
The admissions office is rude
No career opportunities available to students
Small student centers
Low pay for teachers compared to other places
Sometimes funds are being misused
Does St. Charles Community College have a campus?
Yes, and it comprises of 12 buildings. There is always plenty going on there. You can go to an upcoming show at the theatre, visit an art exhibition, watch some of the feature films, go to a music concert, join any of the different events on campus. Also, you can go to the Coffeehouse to enjoy open-mic nights. Here poets, writers, songwriters show their creations.
Tuition and Fees in St. Charles Community College
Fees vary for in-district students ($106/credit hour), out-of-district in-state students ($159/credit hour), and out-of-state/international students ($216/credit hour). Also, you have to pay additional fees. They are admissions fee, course fees, technology fee, nursing fee, welding fee, music, science lab fee, art studio fee, ESL lab fee, graduation fee, student success fee, departmental exam fee, returned checks, replacement ID, and an additional copy of assessment score. To know all of the charges, go to the mySCC portal.
Conclusion
A student portal is a massive source of information that relates to the education of students. This database gives you an opportunity to perform many actions online, read the recent on-campus news, check out events, pay tuition, send your transcripts, search for courses and then register, and many other things. Just imagine, all you need to do in order to use this powerful website is to register and log in. You'll have everything educationally related right at your fingertips.
The mySCC portal isn't just a webpage crammed with information, that information is very conveniently organized. The portal uses tab navigation, which means that anything that you may be looking for is located under tabs. To get redirected to that tab you need to click on it, and as easy as that, read and enjoy.
If you can't find the link to the mySCC portal, go to the college website. It will be right at the top of the page. Or just go here myscc.stchas.edu. If any issue appears when using the portal, contact the Help Desk, which is located under the Technology Services tab. It will resolve all technical problems and answer all of your questions.